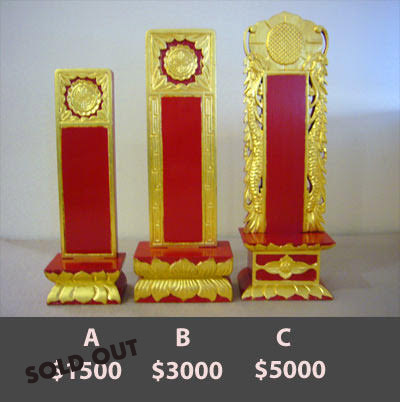 Ancestral tablets for one's deceased loved ones can be purchased and installed in Thian Hock Keng. Details are as follows:
Type A
Type B
Type C
Installation Fee
$1500 (Sold out)
$3000
$5000
Production Fee (for 1 name)
$150
$180
$220
Additional name to be inscribed on the tablet
$30
Religious Service Fee (on the 8th day of each lunar month)
$100
Optional: Religious Service Fee (on a day of choice)
$300
All payments are to be made in cash.
The position/location of tablet installation is strictly on a first-come-first-served basis. Applicant is not permitted to choose the position/location of tablets.
The temple reserves the right to adjust the production, installation and religious service fees without prior notice.
OUR FAITH

THIAN HOCK KENG, A TEMPLE THAT ENCOMPASSES BUDDHISM, TAOISM, CONFUCIANISM AND ANCESTRAL WORSHIP, AND HER PLACE IN THE HEART OF HER DEVOTEES.